(InvestigateTV) — In Washington, D.C., you'll find the city's first 'harm reduction' vending machines set up outside fire stations in neighborhoods that have seen higher than average overdose rates.
The machines are stocked with the opioid overdose reversal medication Narcan, along with fentanyl test strips and other health and wellness products.
So how do the machines work?
No quarters or loose change are needed. Instead, people simply call a phone number posted on the front of the machine to get an access code. Outreach teams also hand out access cards that can be swiped at the machines to dispense a product.
The machines are designed to be free, anonymous and available 24 hours a day, seven days a week.
"It's really another way to get Narcan into the hands of D.C. residents," explained Angela Fulwood Wood, chief operating officer at a federal qualified health center called Family and Medical Counseling Service, Incorporated. "We included male condoms, female condoms, hygiene kits, wound care kits, band-aids and COVID test kits."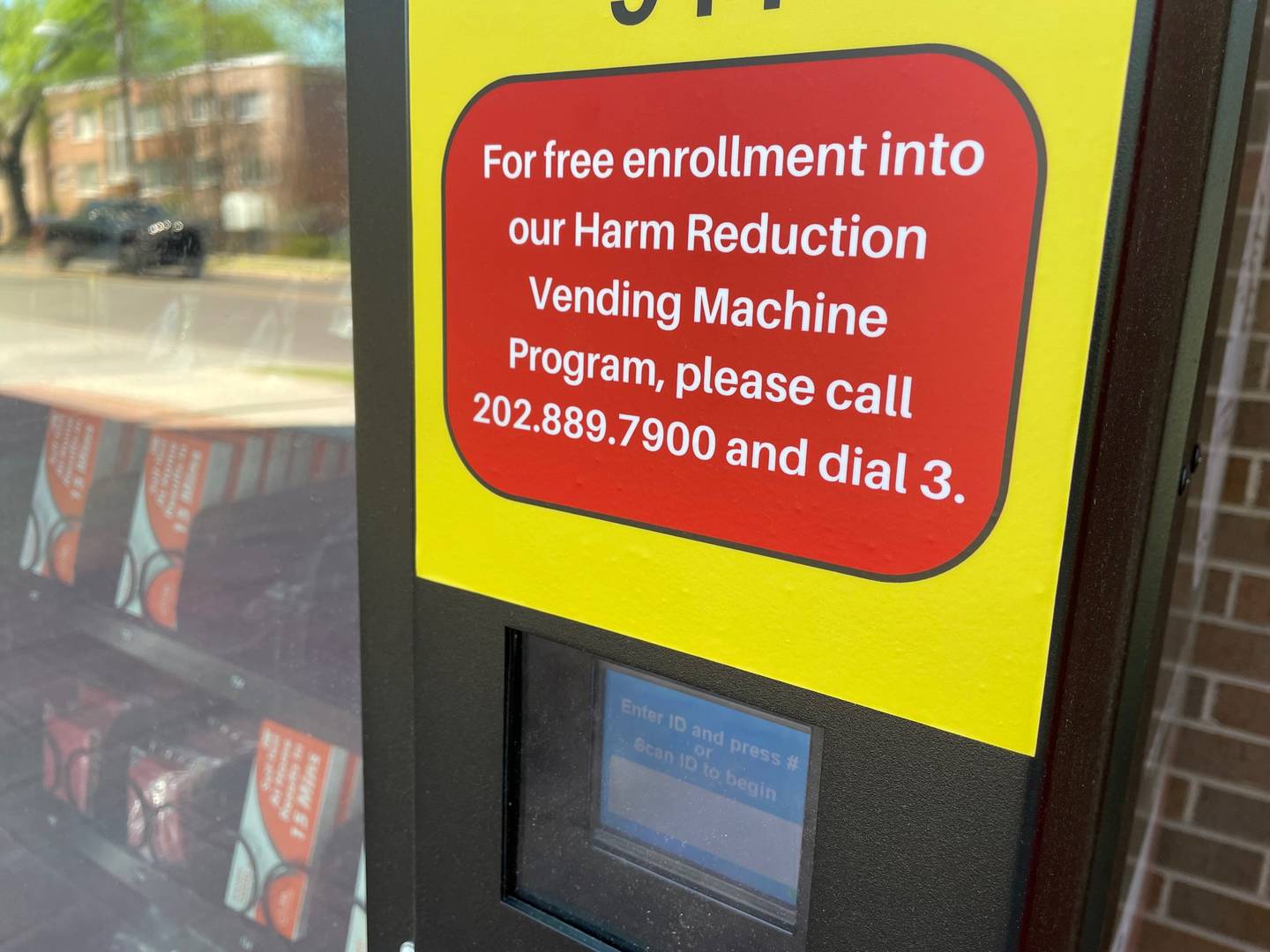 Fulwood Wood's organization, for years now, has run a multi-layered harm reduction program in the nation's capital.
"For us that program includes syringe exchange services, it includes the distribution of Narcan, of fentanyl test strips, it also includes linking people to medication assisted treated if they're interested in starting to decrease their level of use," she said. "It also includes linking them to inpatient and outpatient substance use and mental health treatment programs. So, for us, it's a spectrum of services."
But as the opioid and overdose crisis evolves, Fulwood Wood says it's important their response evolves as well.
According to the District of Columbia Office of the Chief Medical Examiner, D.C. saw 448 opioid-related fatal overdoses in 2022, an average of 37 deaths per month. The medical examiner's office found 96% of those fatal overdoses involved fentanyl.
"Simply put, we are seeing a drug supply that is heavily laced with fentanyl, and we're seeing overdoses on a regular and consistent basis" Fulwood Wood said. "We're very scared, we're afraid, that the death rates will continues to go up."
That's where she hopes the harm reduction vending machines could make a difference, saying they offer "low-barrier access" to Narcan.
"I think not everyone is ready to walk into a traditional health environment and ask for Narcan," she said. "And so, I think this is another way to allow people to privately get Narcan. And at this point, we are in a place where we need residents to have Narcan in their homes, on their persons, so if they encounter someone who is overdosing, we have the best chance of seeing a reversal."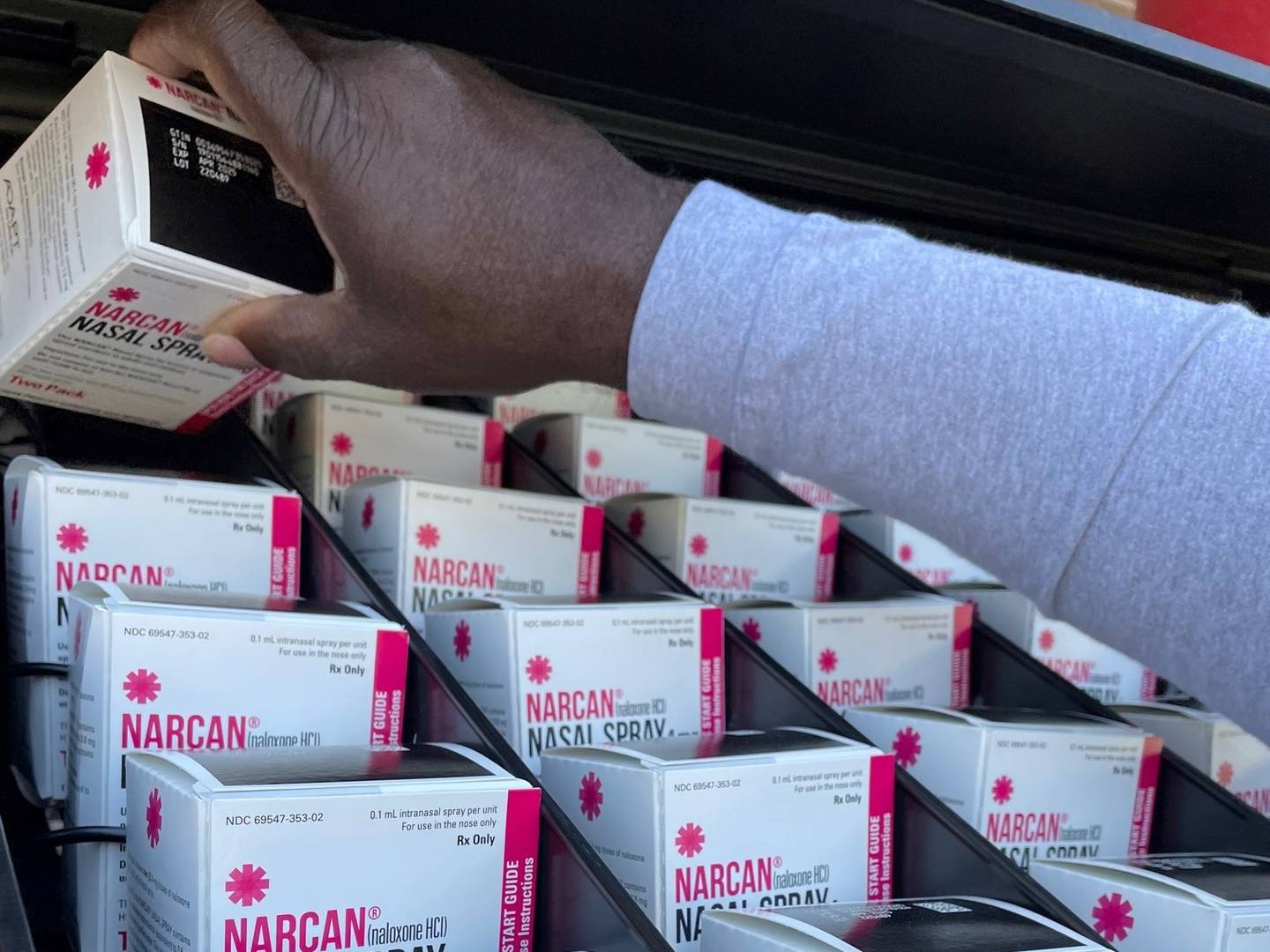 On the national level, CDC data shows overdose deaths involving opioids increased from an estimated 70,029 in 2020 to 80,816 in 2021, with fentanyl largely driving that trend.
[ Related: Officials agree — use opioid settlement funds to curb youth addiction, but the 'how' gets hairy ]
The D.C. Health Department announced in April of 2023 that it was partnering with community organizations like Family and Medical Counseling Service to pilot the implementation of harm reduction vending machines.
DC Health officials awarded $300,000 in grants to fund the year-long pilot program: $150,000 each to two community partner organizations.
"We used our first $50,000 to cover the cost of the actual machines, and that is the cost of three machines," Fulwood Wood said. "And to stock the machines is actually fairly low cost, because the D.C. government does give us many of the supplies."
In recent years, a growing list of U.S. cities have deployed similar harm reduction vending machines.
"I know it's picking up nationally," Fulwood Wood said.
InvestigateTV+ found our Gray Television partners reporting on them in places such as:
At all of the above locations, the vending machines are stocked with Narcan.
"These harm reduction vending machines are called 'novel' and are relatively novel in the United States, but they've been used outside of the U.S. for decades," said Daniel Arendt, an assistant professor and doctor of pharmacy at the University of Cincinnati.
Arendt has been studying harm reduction vending machines since one went live in Cincinnati in February of 2021.
"So, the first machine ever in the U.S. was Puerto Rico in 2009, then Las Vegas had a machine starting in 2017 I believe," he said. "And then Cincinnati was the second metro area in the continental U.S. to have a [harm reduction] vending machine."
The one in Cincinnati was set up by a nonprofit called Caracole. Arendt said he found that vending machine dispensed 3,360 doses of Narcan and 10,155 fentanyl test strips in just the first year.
"We directly compared how much distribution of naloxone and fentanyl test strips, that were given out through the Caracole organization the year prior to the vending machine and the year of the vending machine, and we saw drastic, drastic increases," Arendt said.
By year two, Arendt says periodic surveys of the people using Cincinnati's harm reduction vending machine led to another eye-opening number.
"One of the biggest things that stuck out to me was the amount of overdoses that are being able to be directly reversed by naloxone from this machine," he said. "We've already had over 1,600 overdoses reported to have been reversed, in our patient population specifically."
At the same time, Arendt points to reduced overdose deaths in 2021 in Cincinnati. According to the Hamilton County Addiction Response Coalition's annual report, overdose deaths there dropped 16 percent: from 515 in 2021 to 433 in 2022.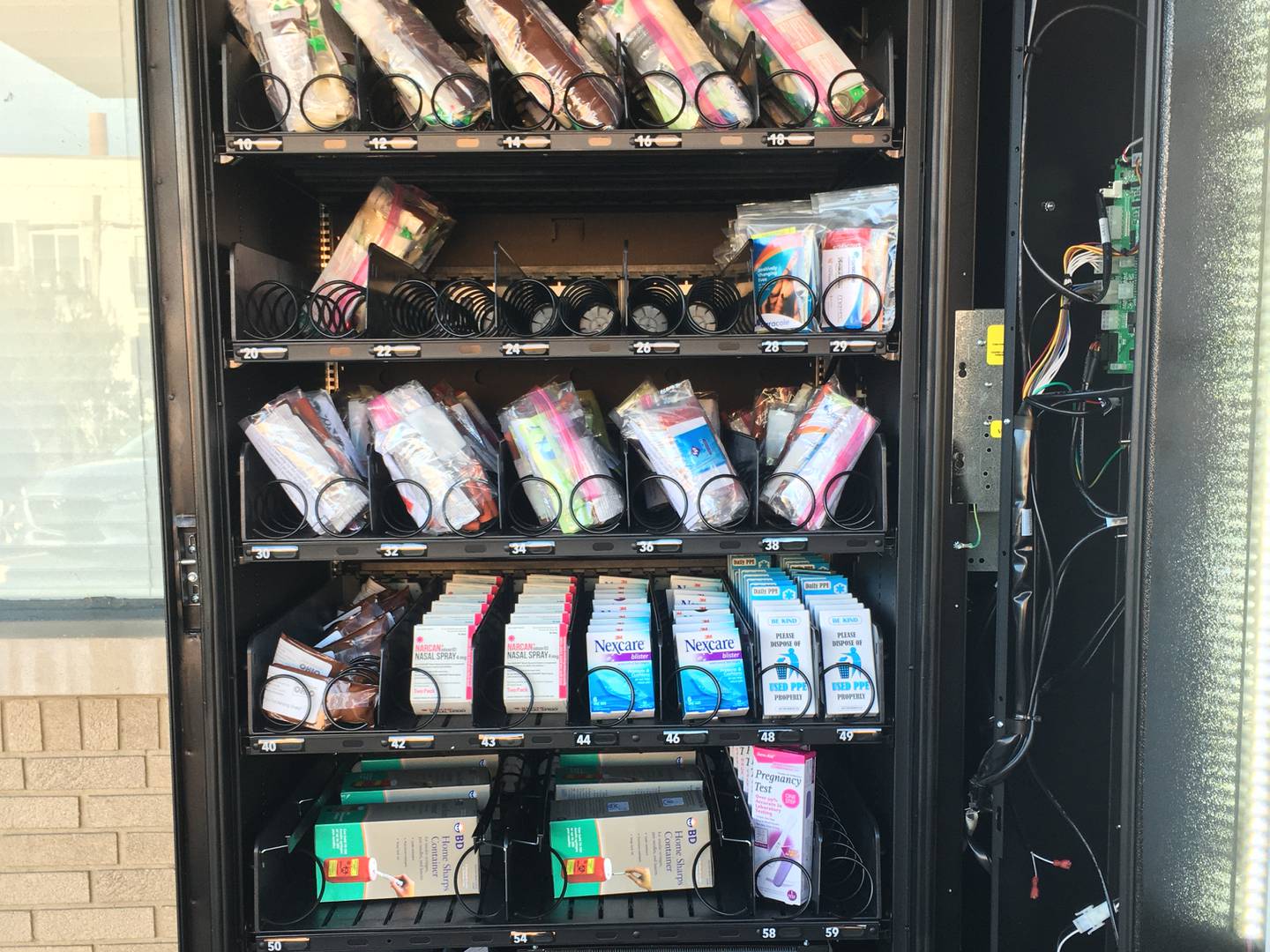 "Now, we can't go and say that 16-percent reduction is entirely because of this machine," Arendt said. "But, when you can point and say directly that 1,600 overdoses have been reversed from naloxone from this machine and in the same period we are one of the few places in the United States that are seeing opioid deaths decreasing, I think it speaks to the fact that, regardless of how they're accessing it, the more access to these harm reduction services there is, the better results you see in terms of patient outcomes."
Arendt's research, published in the Journal of the American Pharmacists Association, concluded that the association with decreased overdose deaths "should be further investigated," but said the harm reduction vending machine in Cincinnati proved "very effective" and increased the accessibility of harm reduction products.
"This was more effective than even we anticipated it being," he said.
Arendt says that in the months since he published that research, he's fielded questions from public health departments and other organizations across the country that are interested in launching harm reduction vending machines of their own.
Fulwood Wood said she is encouraged by the results of Arendt's research, but she isn't surprised.
"I think, you know, it makes sense to me. I think it speaks to the viability of a strategy like this," she said.
Both Fulwood Wood and Arendt also pushed back on the notion that the harm reduction approach supports or enables drug use.
"This isn't counterintuitive like people might think when they hear about some of these concepts," Arendt said. "It's not causing people to use drugs, it's causing them to use the drugs they were already going to use in a more safe manner."
Fulwood Wood echoed that message.
"I think in the best-case scenario we do help people stop using drugs, but I think when we are realistic with ourselves, there is going to be a segment of people that are not ready to stop," she said. "And I think the best way to deal with that, in our opinion, is to keep the community safe by offering harm reduction services."
Copyright 2023 Gray Media Group, Inc. All rights reserved.