WASHINGTON, D.C. (InvestigateTV) - As deaths on the road remain at the highest levels in more than a decade, a federal report argues the gender gap in vehicle safety may not be as wide as it once was and indicates crash test dummies delivering higher-quality data are getting closer to implementation in federal crash safety tests.
Experts say that technology could make cars safer — especially for women.
The interim report from the National Highway Traffic Safety Administration (NHTSA) fulfills a mandate put to the agency by the 2021 $1.2 trillion dollar infrastructure bill, which required the agency to self-evaluate its crash testing protocols and technology as well as the existence of gender-based disparities within each.
The 18-page document outlines NHTSA's existing line up of anthropomorphic test devices, otherwise known as crash test dummies, as well as the more advanced devices currently in development. It additionally explores the agency's use of computer-generated crash test simulations and the "challenges" that exist in developing accurate safety testing equipment.
NHTSA's interim report also represents the Department of Transportation's most comprehensive response to concerns federal crash safety testing puts greater emphasis on male drivers compared to their female counterparts.
"Safety is the top priority for the DOT and NHTSA, and equity in safety outcomes is central to our mission across all categories of drivers," the report's executive summary reads.
Lawmakers who have been following the issue since InvestigateTV's initial report in May 2021 issued a joint statement about the report late Monday, saying: "Gender inequity in crash testing has fatal consequences. We are pleased that NHTSA is taking steps to prioritize women's safety on the road."
Congresswoman Eleanor Holmes Norton (D-DC) told InvestigateTV in a phone interview that she was pleased with NHTSA's response overall but said she will be watching to make sure the agency follows through with its promises.
"I'm going to measure success by how soon we see these dummies being used in new cars," she said.
Getting dummies into cars
Expected implementation of updated crash test dummies depends on the particular model of dummy, but according to the report, NHTSA under the Biden administration has "accelerated the development" of a more advanced female dummy.
The Test Device for Human Occupant Restraint or "THOR" comes in different sizes, with the THOR-05F representing this 5th-percentile female (a 4-foot-11-inch, 108-pound female person).
How much more quickly an "accelerated" process will be isn't specified in the report: THOR-05F is still being evaluated by NHTSA to determine any needed design updates — something the agency has been engaged with for the male version of the dummy for more than a decade.
Humanetics, one of the manufacturers of THOR and whose leadership has spoken with InvestigateTV about the issue in the past, expressed a similarly pleased reaction to lawmakers about the report.
"We see the work that NHTSA is doing with the THOR-05F as very positive," Ken Bonello, the company's vice president of engineering, said in an email to InvestigateTV.
"This final process, ahead of federalization, includes some additional tests and durability enhancements, which is very normal for an ATD at this last stage of development," he said, but added: "Many car makers and Safety Test Labs worldwide are already using the THOR-5F."
NHTSA is also in the midst of the rulemaking process for the THOR-50M — the dummy for an average or "50th percentile" male — to potentially include it in the New Car Assessment Program (NCAP) in the next year or two, as part of the proposed timeline released in March as part of NHTSA's overhaul of the NCAP. That would mean new dummies being used in the tests that determine 5-star safety ratings frequently used in car manufacturer's advertisements.
Among the challenges to implementation listed by NHTSA is weighing biofidelity — the ability for the dummy to have a human-like response — and durability, because dummies are used more than once.
"Developing a dummy that not only has a human-like response but also remains intact through multiple crashes is a considerable challenge and necessitates the previously mentioned iterative design process with manufacturers," the report states.
The agency notes it is also working to bring a handful of other more-advanced crash test dummy options online for certain types of tests, including WorldSID ("Side Impact Dummy") female and male models that will be used for side-impact tests and the Biofidelic Rear Impact Dummy (BioRID) that was developed in Europe.
Data shows improvement, but disparity for women persists
Also included in the report are statistics from a DOT study finalized in August that revisited agency research into vehicle crash fatalities that found female front-row occupants are more likely to be killed than males in the same crash.
That study found that as automotive safety technology has improved, so has the overall disparity between female and male occupants — finding that in 2015-2020 model-year vehicles, overall fatality risk for female occupants is just 2.9% higher, compared to 18.3% higher for models from 1960-2009.
NHTSA attributes the improvement to the increased safety features in vehicles, ranging from basic seatbelts to more sophisticated airbags and sensors.
While the general gap has narrowed over time, NHTSA's research still found female front-row occupants are at higher risk, especially in the two most commonly fatal crash types.
In front-impact crashes, female occupants are 4.4% more likely to be killed in a car with the most-updated safety features and 10.2% more likely in a truck or utility vehicle.
For side-impact crashes where the crash occurs on the driver's side, female drivers are still have a 20% or greater increased likelihood of death, regardless of how modern of safety features the car has.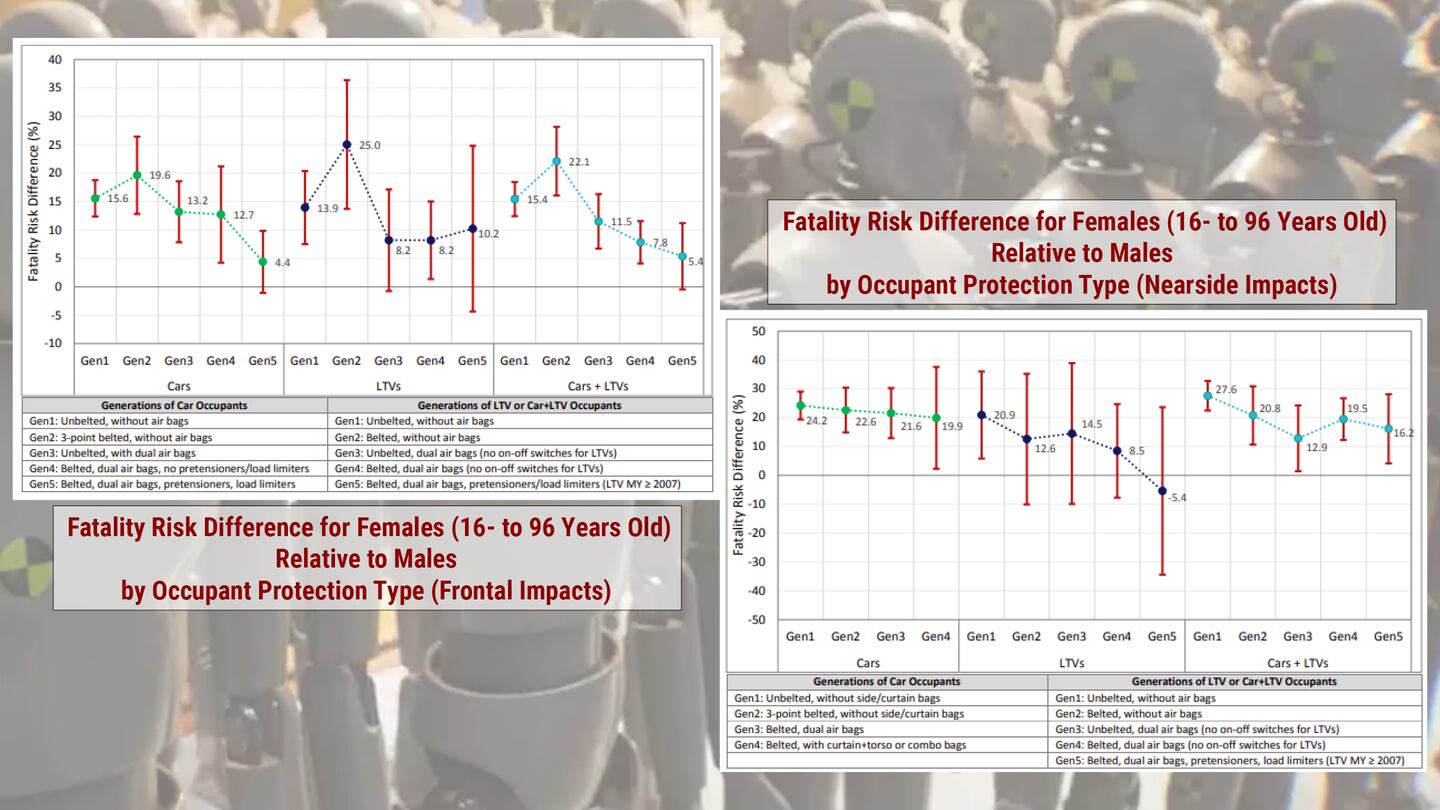 However, in other types of crashes, the gap has narrowed: In a side-impact crash on the side opposite the driver or in rear-impact crash, a female driver is just 1.8% or 0.8% more likely, respectively, to be killed if the vehicle has modern safety features.
The study notes the data is still limited because there are fewer new-model vehicles on the road — non-government research found the average age of a vehicle in 2022 is 12.2 years.
The result is some of the findings — including the reduction to 2.9% overall greater risk, which had a 9.8% margin of error — are not statistically significant at this point.
But any greater risk to a driver based on physical gender, the agency said in its letter to lawmakers, is a problem that still needs to be addressed.
"While this reduction is noteworthy, any remaining disparities are unacceptable," it reads.
Holmes Norton said she agrees, and she hopes a focus on a more expeditious timeline to implement modern crash test dummies will improve the odds.
"They have accelerated the new program for crash test dummies that we've been waiting for for some time," she said, "and then acceleration will mean that with new cars, we should see less accidents, less fatalities and less injuries."
Jon Decker contributed to this report.
Copyright 2022 Gray Media Group, Inc. All rights reserved.